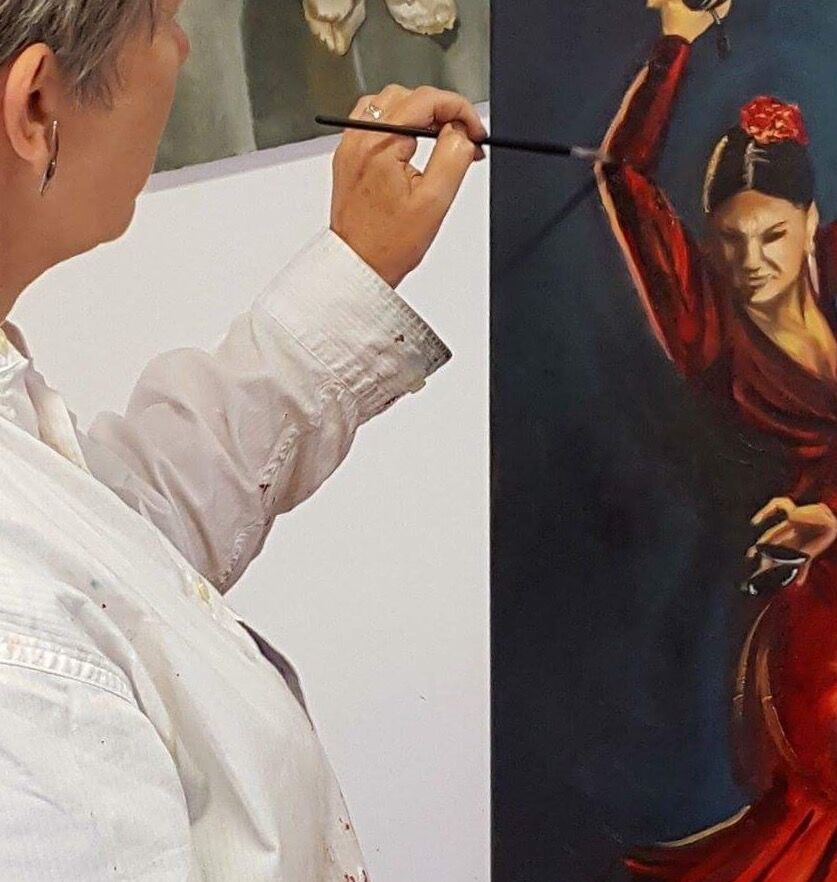 Val Lawson - Artist
My art, networks, and other interests
MY ART: I'm an expressive artist whose paintings are inspired by patterns found in nature and by memories of special places, people and events. Subjects include abstracted landscapes, portraits and fantasy animals.

My colourful work appeals to people who love to travel and explore, who appreciate the amazing diversity of our world and who like to spot the hidden meaning in a painting.

I focus on the effects of light on colour, line and shape, use the contrasts of lively brushstrokes and texture with subtle smooth colour transitions.

HOW I WORK: I prefer to stand at an easel to paint using oils or acrylics, brushes or palette knives, but also love to experiment. That has led to several paintings using mixed media and ink based media, sometimes on board or paper, and a growing interest in abstract.

Although I use photos as reference images for my paintings - taken when I''m out and about, from friends or online - my paintings are not photo-realistic and I often take artistic licence.

WHY DO I PAINT: I've always painted or sketched as time permitted through a demanding business career.

Now in retirement from that corporate world, making art has become a compulsion for me. The task of capturing a visual interpretation of what I see or imagine.

Painting improves my feeling of well-being: the excitement of 'the chase' in portraying on canvas an image that will trigger an emotional response and bring joy.

Each new painting is a journey from initial idea through planning to completion. So, I may be painting, preparing for a new work or managing the admin of my art business – a typical day often includes all of these!

NETWORKS: I'm a great believer in the benefits of networking with like-minded people and belong to several online networks. Locally, I'm a member of Herts Visual Arts Forum, Artist Network Beds and Hitchin Art Hub; I exhibit regularly with them and in other venues. I paint with Sundon Art Group and will be leading the new Fairfield Community Art Group (starting June 2021 - if allowed).

OTHER INTERESTS: When I'm not painting, I enjoy playing competitive bridge, cooking, and keeping in touch with family and friends. I read for relaxation, and like pitting my brain against crosswords and other puzzles.

I've a long standing interest in equality and diversity, and have written blogs on the subject.